Hours
Low Tide & Flat Tide
Always free to contact me by Whatsapp or Email.
Contacts Details
Whatsapp. +39 3667467317
Telephone & Whatsapp. +39 3667467317
Email.  [email protected]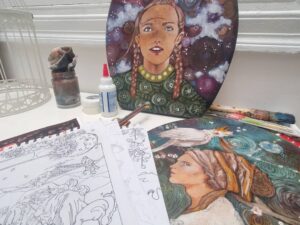 Which pieces can I customize?
Paintings and Illustrations, Book covers
How can I have a personalized piece?
From a photograph or from a simple idea, we share the necessary material to create a design as personalized as possible, through: tastes, colors, passions, images provided. Any element added to the description of what you want to achieve will be useful and taken into account for the final design.
Can I customize with a gift card? And how much is it?
Gift cards can be created for customized designs and objects, and a gift card can also be created to request paintings, the price will always depend on the quantity of characters and details and on the type of object to be customized.
How do the prices differ?
Prices differ based on the amount of human, non-human subjects, size of canvas, materials.
Painting, illustration or a book?
It depends on the type of occasion!
A painting is very suitable for a wedding, a special gift to differentiate yourself from the other guests.
Suitable for special occasions such as a Valentine's Day from someone special, the graduation of your best friends, the anniversary with your boyfriend / girlfriend.
An illustration becomes more suitable for gadgets, for a Christmas, birthday, personalized letters and posters that illuminate our rooms with passions and positivity.
Book: Who wouldn't like to read about adventurous true stories, wonderful places in the world and boundless oceans?
How long do i take?
A painting can take from a week up to a month, while an illustration a few days /a week, shipping books will take much less (2 days).
Painting on canvas 30x40 cm
Digital Illustration
From 25.00€
Just Digital Illustration